Bernie Wire first learned of Argentium, a silver alloy with small additions of germanium giving it firestain resistant properties, in 1997 while attending the Santa Fe Symposium on Manufacturing Technology. Firestain or firescale in silver alloys commonly appear following polishing operations as blotchy patches on the metal's surface. Because silver is easily permeated by oxygen conducting into the interior of the metal, oxygen bonds with copper atoms to form cuprous or cupric oxide causing deep firescale to occur from the high temperatures of soldering and annealing operations.
Historically, the high thermal and electrical conductivity of traditional sterling alloys made them unsuitable to resistance welding techniques, but the addition of germanium (Ge) reduced the electrical conductivity making it possible to utilize spot welding techniques. In 1998 Bernie presented his paper "Weldable Silver" taking a detailed look at the aspects of resistance spot welding Argentium at the Santa Fe Symposium on Manufacturing Technology. The jewelry pieces on this page were all fabricated using resistance spot welding techniques and Argentium wire.
Background
Peter Johns of Middlesex University, located the UK, in collaboration with Metaleurop S.A., developed silver alloys that incorporate (Ge) to produce firestain-resistant alloys. Patented in 1993, Peter Johns' silver germanium alloy incorporate small additions of Ge to bring about tremendous contributions to silver's firestain resistance. Two key factors in its compatibility with resistance welding are decreased conductivity and decreased oxidation. The International Annealed Copper Scale (IACS) is used as a measure of conductivity in metals. On this scale, copper is 100% and traditional sterling is 96% conductive. Metals with high conductivity require tremendous amounts of energy, introduced quickly and accurately, to combat rapid heat losses from the weld site, making traditional silver alloys extremely challenging to weld. Peter Johns' research determined that 1.1% Ge was the minimum required to maintain firestain resistance this lowered the conductivity dramatically improving their welding qualities. At 165 Vickers hardness, conductivity in a .022 Argentium wire was measured at 53.6% IACS, or 3.21 micro ohms per cm and 67.6% IACS, or 2.55 micro ohms per cm in 70 Vickers
Resistance welding does not come close to the versatility of traditional torch soldering methods but, Argentium alloys provide a breakthrough in applications for resistance welding silver providing increased options in manufacturing that were not present before.
Contact us to apply resistance welding to your manufacturing program.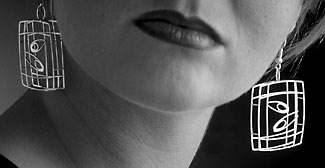 Argentium Earrings by Bernie Wire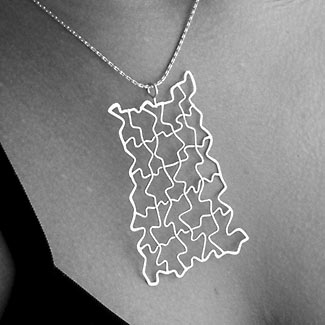 Argentium Pendant by Bernie Wire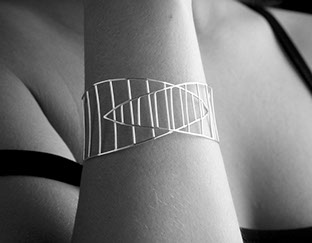 Argentium Silver Bracelet by Bernie Wire